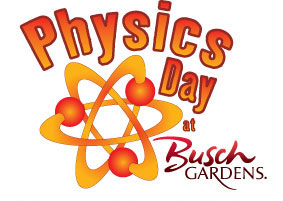 December 2, 2016
Busch Gardens Tampa Bay opens a full hour early, 8:30 am for exclusive use by Physics Students. Roller coasters will be open!

This program is included with admission into Busch Gardens

There is a minimum of 15 students per group

One chaperone free with every 10 paid students into the Physics Day at Busch Gardens event
Make Your Reservation Today! Fill out this Reservation Form.
Call: 1-407-334-4652 or 407-396-4009
Email: sue@ffys.com
Take your students for an educational tour of the Busch Gardens theme park as they learn about how physics apply to the rides. With fun stations such as "This Bites!" and "Physics of Superman;" you will be entertained as well as informed by your "science of thrills" expert! There is a 1 hour free time during the day where rides and attractions are available to all participants.
When you want your students to have a great group trip and learn at the same time, Busch Gardens Physics Days will provide an experience of a lifetime. This year we will be joined by a physics mastermind, Dr. David Wright, from Virginia's Tidewater Community College. He will be the host of a brand new and exciting show, Physics in Motion that will have your students ready to learn! This show is great and only offered to Physics Day students only.
Exclusive privileges will be offered to students that attend Physics Day at Busch Gardens, like a full hour of parks rides without having to wait in line. Plus, there will be physics stations, and a live show that is interactive, all over the park that are there just for Physics Day guests. Teachers, be sure to register in advance so that you will receive a physics day guide that you can teach to your entire class.
Physics Day students will enjoy early access to Busch Gardens. Gates will open at 9:00 AM for Physics Day students only. That is one hour earlier than anyone else can get it! The early access ensures that the students make it too all of the rides and physics events that are going on without waiting in lines.
Really cool additions to Physics Day this year are the Animal Biomechanical Interactive Stations. These stations provide an interesting and fun experience that allows students to measure certain characteristics of various animals, like bite force and speed.
Animal Biomechanic Interactive Stations:
Station 1: This Bites
Students will learn the physics behind the bite force of some of the world's strongest carnivores.
Station 2: I Feel the Need for Speed
Students will learn how to clock an animal's speed by measuring it's body and stride lengths.
Station 3: The Physics of Superman
Students will take a closer look at the biomechanics of animal movement and discover what it would take for humans to have the same physical abilities, particularly the ability of flight.
Station 4: The Power of Oobleck
Students gain hands-in knowledge of this mysterious non-newtonian fluid to learn about its unique properties that seem to defy Newton's Laws.
Station 5: That's How We Roll
Explore conservation of energy and magnetic braking through hands-on challenges at this SheiKra station.
This year, be sure to check out the details on how you and your students can stay overnight in the park on December 6 -7 2012. Not only will you have an amazing and educational time during the day, once everyone leaves the park, you will be to check out what goes on behind the scenes.
Review by Anthony Hall
"My class and I had to get up extremely early to go, but boy was it worth it! We got on the bus, walked through the gate in a giant mob of yellow tee-shirts and were pulled aside into a large behind the scenes building. They told us about the rides and how they used "physics" to operate many of the roller coasters. I was kinda cool, but I really wanted to ride a roller coaster. So I was exited when the guide said we were gonna take a walk around the park and then we could do some of the rides. Well he was funny, definitely a cool guide to be with. About an hour later we were told we had an hour to do the rides and that we needed to be back for lunch. The guide went on the rides with us, and he explained how the two huge roller coasters called the Gwazi stayed on their rails using physics. After he said that I was a little more appreciative of the way the coasters were built. We rode both of them and then went to eat, they had burgers and hotdogs and basically every kind of chip that existed. If you can get your teachers to take you hear then do it."
Call: 1-407-334-4652 or 407-396-4009
Email: sue@ffys.com